NEBDN Dental Nurse Courses Online
BECOME A QUALIFIED DENTAL NURSE
Dental nursing is a well-paid and rewarding profession. Nurses assist in several procedures: from basic check-ups to complex surgeries. Students will receive the NEBDN qualification and the General Dental Council (GDC) number, once they complete the course and pass the dental nursing exams, allowing them to work as a dental nurse / dental assistant anywhere in the UK. 
Dental Tutors is the UK's leading NEBDN accredited dental nurse / dental assistant course provider based in London. All our learning material is accessible online. Students can access dental nurse learning modules on any device.
TRAINEE DENTAL NURSE PLACEMENT
You do not need any specific academic qualifications to begin studying and working as a trainee dental nurse. As soon as you join our course, we will provide you with the enrolment letter that can be used to apply for trainee jobs. This allows students to earn while they learn.
We offer:
Assistance in finding work placement as a trainee dental nurse / dental assistant from the first day of the course, through our dental clinics network in the UK.

Assistance with CV updating.
Assistance with Records of Experience (RoE).
Monthly course payment plans.
Assistance with covering letters and application process.
Regular updates with new trainee dental nurse vacancies in the UK
Full guide provided on how to find trainee dental nurse placement
Course enrolment letters that can be used when applying for a trainee dental assistant / trainee dental nurse placement in the UK.
PASS RATE FOR THE APRIL 2022 WRITTEN EXAM

OVERSEAS DENTISTS AND HYGIENISTS
The General Dental Council (GDC) is the organisation that regulates dental professionals in the UK.
All dentists, dental nurses, dental technicians, dental hygienists, dental therapists, clinical dental technicians and orthodontic therapists must be registered with the GDC to work in the UK.
When you register with the GDC you are licensed to work as a dentist or other dental care professional in the UK.
The Dental Care Professionals Register includes:
dental hygienists
dental therapists
clinical dental technicians
orthodontic therapists
dental nurses
dental technicians
Dental Tutors can help you to register with the GDC. Contact us to find out more.
DENTAL NURSE COURSES ONLINE
We offer online dental nursing courses in the UK. Students who enrol to our courses will receive the following advantages:
Our visual effects team complement the courses with animated videos and multimedia content that are scientifically accurate and visually pleasant to watch.
Incorporated course progress tracker that helps you to see your progression.
Interactive labelling and colouring exercises.
All study material available online so you can study anywhere – anytime.
Free mock/revision exams with instant results for the duration of the course.
Weekly Mock Exam nights hosted on Zoom app by our tutors.
Weekly RoE nights hosted on Zoom app by our tutors.
Animated treatment videos
Dental instruments library with descriptions
Online dental nurse course is available for anyone in the UK
Ability to Earn while you Learn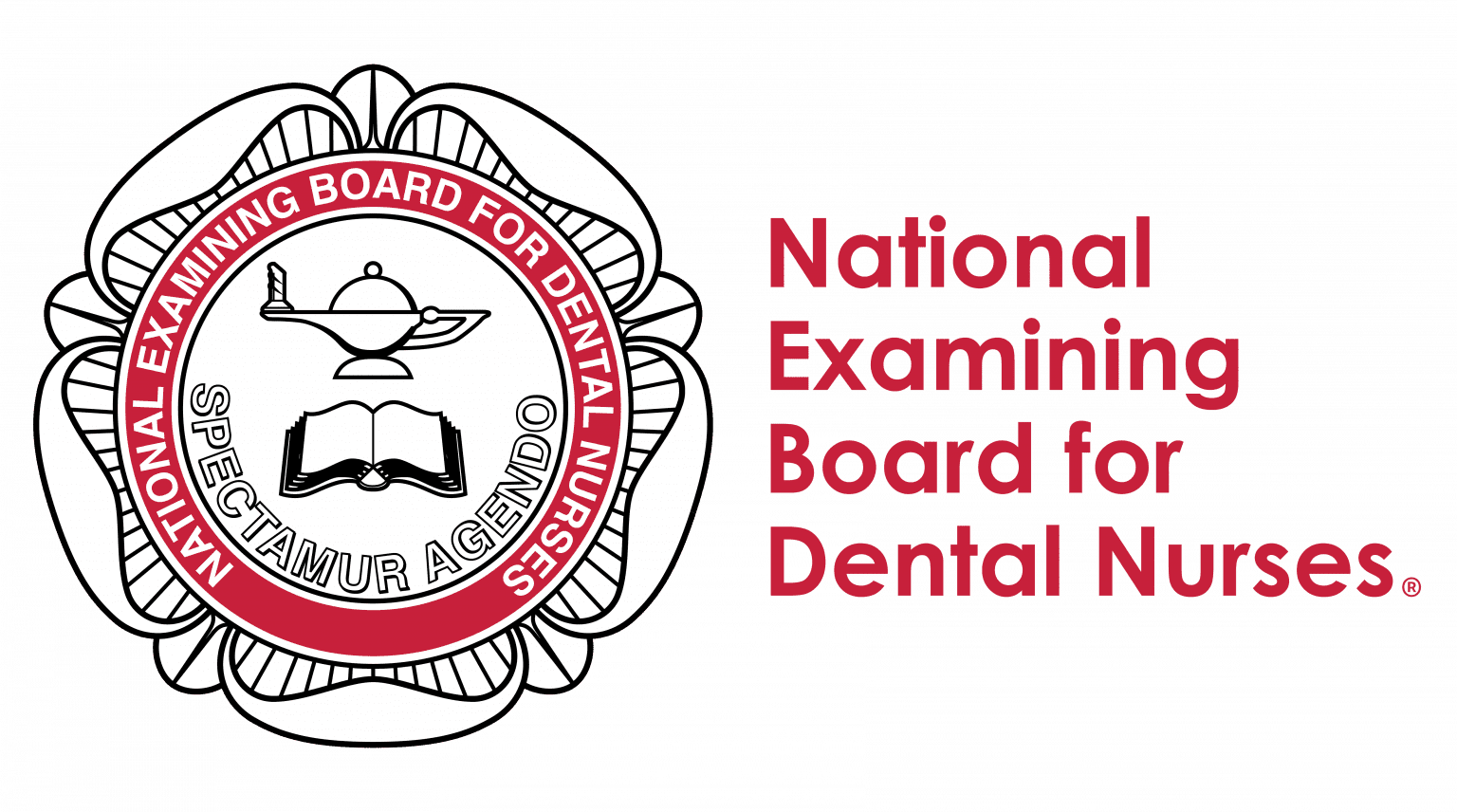 What is a Dental Nurse?
A dental nurse / dental asisstant works closely with the dentists and hygienists, providing assistance throughout a patient's visit at the dental clinic.
Assisting the dentist in a wide range of procedures from preparing the various materials required and ensuring the proper instruments and equipment are available, to cleaning and sterilising the used instruments.
They will complete patient notes on instruction from the dentist and ensure confidentiality is maintained. The dental nurse ensures the efficient running of the dental workplace as well as the well-being of the patient.
Dental nurses must either hold a recognised qualification and be registered with the General Dental Council (GDC) or be working towards registration on an approved training course. The National Certificate in Dental Nursing is a recognised qualification which is accredited by the National Examining Board for Dental Nurses. This certificate can be obtained by working in a dental practice while undertaking studies to prepare for the qualification.
How long does it take to become a qualified dental nurse?
Our online dental nurse course take 1 year to complete. Afterwards each student is required to take the NEBDN dental nurses exams in order to get the qualification.
NEBDN National Diploma in Dental Nursing – is equivalent to Level 3.
After successfully passing the exams, students are able register with the GDC (General Dental Council) and work as a dental nurse anywhere in the UK.
NEBDN Dental Nurse Examination Process and Requirements
The aim of the National Diploma examination is to assess knowledge and decision making to
demonstrate that the candidates understanding and competency shows that they are safe to practice as a dental care professional.
The NEBDN examination is in two parts and you will need to pass Part 1 before you can take Part 2.
Part 1 is a written paper consisting of multiple-choice questions (MCQs) and extended matching questions (EMQs). Part 2 is a practical examination consisting of a series of objective structured clinical examinations (OSCEs) which are arranged in cubicles around a large room. These clinical examinations are designed around simulated situations which you may commonly encounter in the workplace.
Once you have passed Part 2 of the examination you will be awarded the NEBDN National Diploma in Dental Nursing and you will be eligible to apply for registration with the General Dental Council as a qualified dental nurse.
What is a dental nurse salary in the UK?
Qualified dental nurses can earn up to £30,000 per year (National Careers Service) while working full-time.
Until students receive the qualification they can work as Trainee Dental Nurses. This helps them to earn while they learn.
Students often choose to take a post-registration course to progress as an individual and explore new career paths.
Post-graduate courses:
Dental Radiography

Oral Health Education

Dental Sedation Nursing

Dental Implant Nursing

Orthodontic Dental Nursing

Fluoride Varnish Application

Special Care Dental Nursing
Completion of National Diploma in Dental Nursing allows students to achieve other dental nurse qualifications:
• Radiography
• Oral Health Education
• Sedation Nursing
• Implant Nursing
• Orthodontic Nursing
• Fluoride Application
Candidates may also progress into other roles of dentistry such as:
• Tutor
• Witness or Mentor
• Practice manager
• Dental technician
• Dental hygienist
• Dental therapist
• Dentist
What is the NEBDN RoE – Records of Experience?
The purpose of the RoE is to ensure student dental nurses receive summative assessments carried out in the workplace to an approved standard. All those involved in the assessment process must adhere to the benchmarks and performance criteria set out in the Record of Experience Checklists and Marking Guide.
The RoE is composed of a series of Practical Experience Record Sheets (PERS), covering all areas of general dentistry set out in five units. The PERS provide a written record of the student's performance during the relevant clinical procedures that they refer to, and indicate whether that performance was satisfactory or not.
The range of procedures and the number of PERS to be completed ensures that all registered dental nurses have had a documented minimum of workplace training experiences as a starting point for their careers. Students must provide support to a range of patients during the completion of the RoE and are required to indicate on the tracking document at least one occasion where they have assisted each of the following: an adult patient, a child patient, an elderly patient, a patient with special care requirements.
What is a Trainee Dental Nurse / Dental Assistant?
Once you enrol to an accredited dental nurse course, you will be required to complete theorical and practical assignments before you can take the dental nurses examination.
Trainees start by shadowing qualified dental nurses and observing the wide variety of treatments that are carried out on a daily basis at the practice. It allows them to become familiar with the running of the surgery and to see how a nurse works alongside a clinician.
We will assist and guide all our students in finding a trainee placement from the start of the course, through our dental clinics network in the UK. Most of our students get a placement within 1 month of the course.
All dental staff are required to be vaccinated against Hepatitis B.
Trainees usually start with a national minimum wage.
The average salary for trainee dental nurse jobs is £23,481 depending on experience (Totaljobs salary checker).
What is a Locum Dental Nurse?
Locums offer a temporary solution to staffing shortages. They usually are either self employed or employed by a locum agency. Many locums enjoy the freedom of undertaking their job, without being responsible for any other duties or roles within the Practice. However, this can make them isolated and inclined not to be involved in day to day Practice matters which would normally be beneficial for both parties.
The advantages of being a locum include:
Flexibility – control over when and where they work, and how often.
Self employed – in charge of themselves.
Financial benefits – they can set their own pay rates and can claim many more expenses against their tax bill.
Increased knowledge – working at various locations can increase knowledge and understanding of different working practices to learn from.
NEBDN National Diploma in Dental Nursing (Level 3)
NEBDN National Diploma in Dental Nursing (Level 3)
Overseas Dental Care Professionals GDC Registration
CPD TRAINING FOR DENTAL AND CLINICAL STAFF
Certificate of Attendance is available as evidence of development once a training course is complete or the desired standards of learning have been met.
All Dental Tutors CPD Courses are accredited by CPDUK
CONTINUING PROFESSIONAL DEVELOPMENT
Continuing professional development (CPD) is the intentional maintenance and development of the knowledge and skills needed to perform in a professional context. This could mean honing current skills, it could mean developing them to a new level, or it could mean learning new ones that will allow an employee's job role to expand or prepare them for potential promotion.
Become a Dental Tutors CPD member for 1 year!
£35.00Add to cart
Dental Nurses Exam Revision
We are offering the online revision/mock exam material to help dental nurses to practice for their NEBDN National Diploma in Dental Nursing Examination. These online courses are designed to help dental nursing students to start revising early, practice effective revision strategies, improve their knowledge, familiarise themselves with pressure, and act as a guide moving forward.
We hope that dental nurse students will find our digital mock/revision exam courses both instructive and informative, and an invaluable revision aid in their quest for qualification.
Exams can be stressful but being prepared can help manage stress and allow you to perform to your best. Revision for the National Diploma in Dental Nursing Exam is for all trainee dental nurses about to take their mock exam or the NEBDN National Examination. If you are about to sit your mock or the NEBDN exam and feel you need that little extra help we have a class that is ideal for you! During this course you will get individual attention and tips for success!
Online Dental Nurse Course Written and OSCE exam preparation packages containing:
Dental Tutors Revision Exam
NEBDN Mock Exam
Dental Tutors Instruments Exam
Interactive Labelling Exercises
Live Zoom Sessions
Dental Treatment Animations
Microbiology Illustrations
Medical Emergencies Exam
X-Ray Exam
Video Recordings of our OSCE sessions
Microbiology
24/7 Support from our tutors
These revision courses are designed for:
Students who have been unsuccessful in the examination.

Students who have had a gap in their preparation for the exam.

Those who feel they need some additional advice to achieve success.
For more information, follow the link below:
How to purchase National Diploma in Dental Nursing exam preparation material?
We offer exam preparation material to internal and external students as well as other dental schools.
To Purchase the NEBDN exam preparation material please visit this link:
Online Written and OSCE Exam Packages
We encourage students to test their knowledge on our FREE TRIAL
Contact details for Dental Tutors
Tel: 07969 347015
Email: info@dental-tutors.com
Address: University of Greenwich
Greenwich students Union, Dreadnought Building, 30 Park Row, Greenwich Peninsula, London, SE10 9JH.
Covid19: Currently we are delivering online dental nurse courses only.